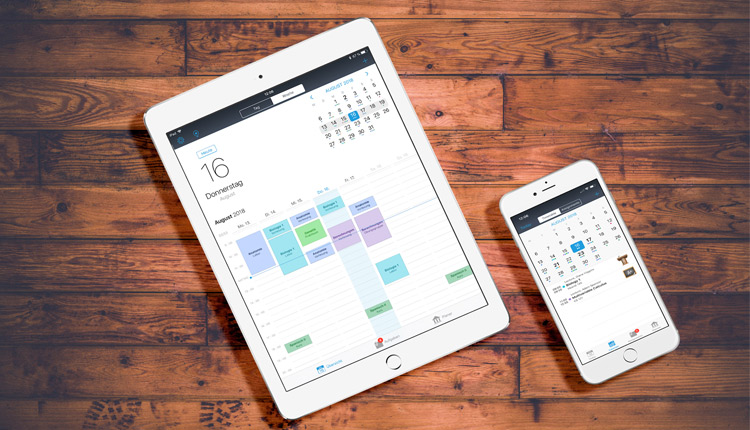 iStudiez Pro gives you an organized overview of your tasks, grades, appointments and exams.
What is iStudiez Pro?
With the app iStudiez Pro you have all your upcoming exam dates and tasks at a glance in one app and thanks to the Cloud synchronization on every device. With the GPA feature, you always stay up to date about your grades. There is also a very innovative timetable, where you can enter the courses, grades, the name of the professor and the location where the course takes place.
Calendar
By allowing iStudiez Pro to access the iOS calendar, the app will also display the calendar events of it and the iOS calendar will show you everything you put in the calendar in iStudiez Pro. Also a great feature is, when you put your phone in landscape mode, you will see a weekly overview. It is also possible to export your schedule to third party apps, so it is possible to share it with your family or friends.
Grades in iStudiez Pro
The App helps you to track your grades. It doesn't matter in which country you live in, because it is possible to set letter, percentage or points as a grading scale. The app supports a weights and credits feature to calculate your grade point percentage (GPA). Also there is an overall GPA, which is calculate from all your courses.
Supported operating-systems
iStudiez Pro supports the following operating systems: iOS, macOS, Android and Windows. No matter on which device you work on, the app is available on every one of them.
How does the synchronization of iStudiez Pro work?
Cloud synchronization works really well and the best part is that it does not matter which devices you use. The data sync also under the various operating systems such as iOS, macOS, Android and Windows, you just have to download the app and once you have logged in, all secured files are also on this device. Notice that you have to use the cloud service from the app, iCloud and other services are not supported.
Functions
Overview: the overview category, provides a quick overview of what´s on the day, it can be extended to a weekly view. The overview category on the iPhone is divided into today and calendar.
Assignments: This category offers a lot of functions to manage a large amount of homework. You can display them in three different ways: due date, module and priority. A group work is also no problem, you can add partners if you allow the app tho have access to your contacts.
Planner: in the Planner view, you have a great overview of how much time remains until the semester is over, how many tasks are still to be completed in each subject and when or if there are still exams.
Conclusion
iStudiez Pro is a very powerful app for students who like to be organized. For me personally, the GPA feature is one of the main reasons for buying the app, because it allows you to stay up to date with your grades. The price for the app is also completely justified, because the app includes a large number of great features and all that in one app.
Info: This article has been partially translated automatically and may contain errors.